20 Best Things to Do in Burbank, Ca
July 22, 2019
#15 The Palm Coffee Bar
The Palm Coffee Bar is a hip coffee shop in Burbank, opened in 2018 by married duo Ben and Joanna Heart Milliken. The coffee shop strives to provide an alternative to more traditional cafes in the neighborhood, showcasing lively vacation-themed decor and serving up innovative drinks seven days a week. Beverages are crafted from beans sourced from Equator Coffee, showcased in traditional favorite drinks like a Cortado, Cappuccino or innovative lattes infusing ingredients like matcha…
Happy INTERNATIONAL Women's day!
March 8, 2019
Our Owner Joanna Heart Milliken was featured on Vega Coffee's site to celebrate International Women's day!. As a female owned biz this was so fun to share!
Voyage la interviews the palm coffee bar
February 12, 2019
Meet Joanna Heart + Benjamin Milliken of The Palm Coffee Bar-
Joanna and Benjamin, let's start with your story. We'd love to hear how you got started and how the journey has been so far.
We started this idea of building a community coffee shop a few years back and a few drinks deep on NYE with our best friends. They sparked us talking coffee, business, people, & community. At the time I had a background in design, recruiting a passion for people. Ben & I both also had an expensive romance with coffee going on as we had just had a baby… "No sleep, your passion for a good cup of coffee deepens. It's a thing. You parents out there get me, and I get you" says Joanna.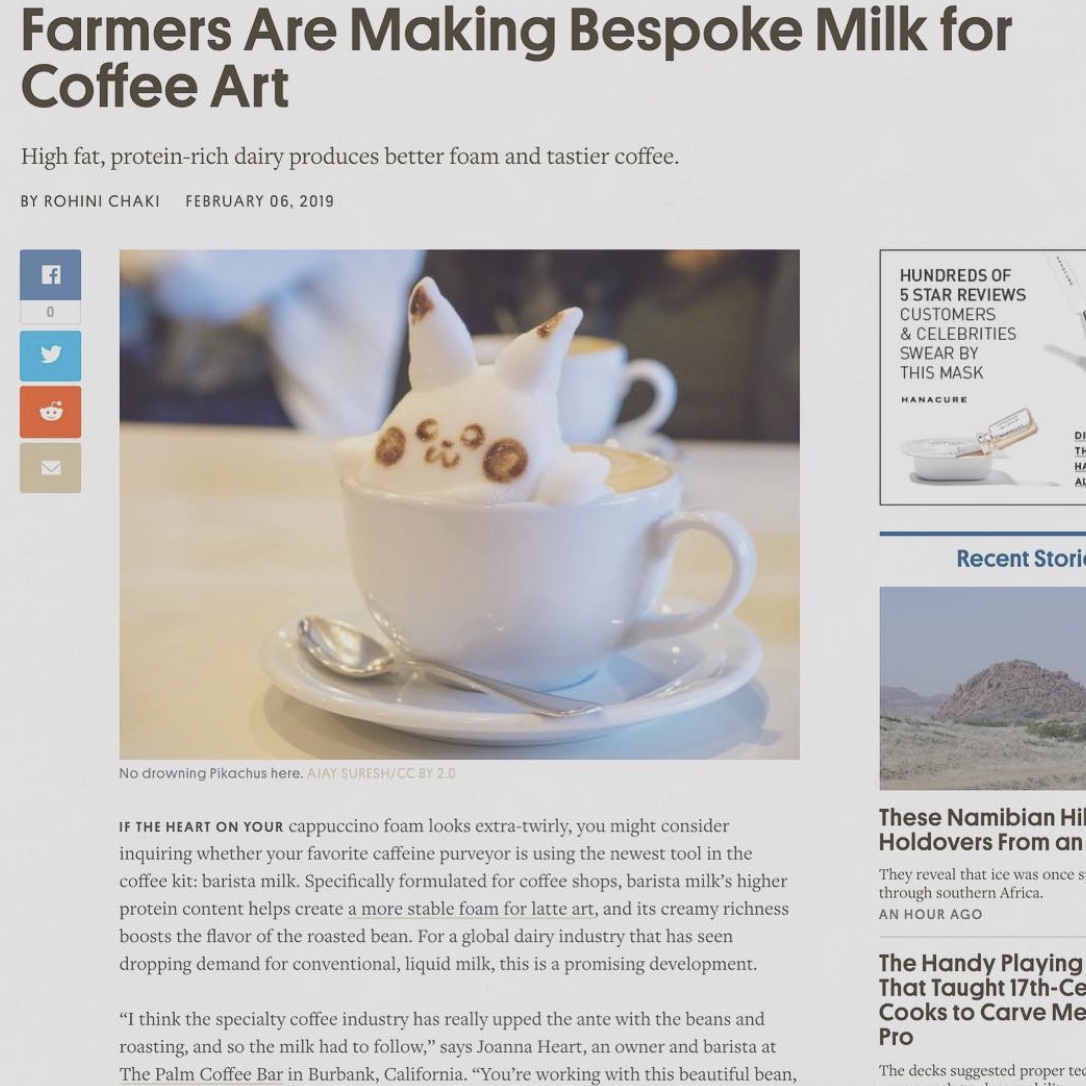 The Palm Coffee Bar, Owner, Joanna heart chats barista milk with atlas obscura
February 6, 2019
Article- Atlas Obscura- "Farmers Are Making Bespoke Milk for Coffee Art"
IF THE HEART ON YOUR cappuccino foam looks extra-twirly, you might consider inquiring whether your favorite caffeine purveyor is using the newest tool in the coffee kit: barista milk. Specifically formulated for coffee shops, barista milk's higher protein content helps create a more stable foam for latte art, and its creamy richness boosts the flavor of the roasted bean. For a global dairy industry that has seen dropping demand for conventional, liquid milk, this is a promising development.
"I think the specialty coffee industry has really upped the ante with the beans and roasting, and so the milk had to follow," says Joanna Heart, an owner and barista at The Palm Coffee Bar in Burbank, California. "You're working with this beautiful bean, it's fair trade, it's organic, and you're putting all this effort into it, and then you're just dumping whatever milk in it? I think baristas began to realize that milk is also something to be researched and played with as an artist."
Don't expect to find this milk for use at home. For now, barista milk, which is priced between 30 to 60 percent higher than conventional dairy milk, is exclusively sold to culinary professionals….
Los angeles magazine vibes with our glitter 100%
January, 2019
We are so excited fo be featured as one of "four to try" in Los Angeles Magazines January issue. The glitter latte was featured on page 98 & we could not be happier to share our joy with the world! Thank you universe for showing us we can sparkle every single day <3 xoxo
January 1st, 2019
The Palm Coffee Bar has partnered with FARMSHOP and will officially serve breakfast and lunch starting January 1st 2019!
100% non-GMO, organic, handmade and delivered to us fresh daily. Yeah, you get it, the good stuff!
Featured items include:
Breakfast Sandwiches
Panini
Yogurt Parfaits
Salads
Vegetarian options
Plus- Fresh Daily Baked Pastries, Vegan & Gluten Free Pastries, Tons of new grab + go items including CDB drinks, Galaxy Lemonade + more!
We are so excited to bring everyone in our community some awesome goodies + we look forward to seeing you soon!

November 30th, 2018
Jason and Myles explain how Joanna, the owner of the Palm Coffee Bar in Burbank, told us how we can make coffee-shop coffee at home, and how to make sure you get great coffee at a coffee shop. So we connected with Equator Coffee & Teas to share this great info with YOU!